Surf Vacation
---
Either if you have always wanted to surf, or if you´re looking for a spectacular Brazil surf vacation in perfect surfing conditions, where gentle swells come together with a beautiful sceneray, friendly people, exotic culture and beautiful people on the beach, this is the right place to come, because your Floripa Surf Vacation includes all of this an more: a fun, comfortable and safe learning environment, professional and personalized English speaking instructors.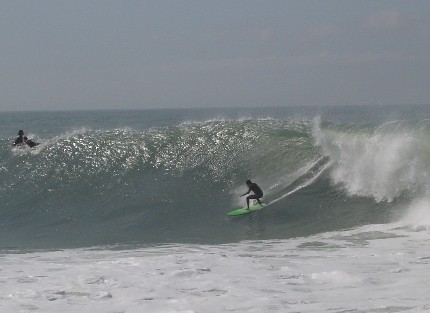 Beginner – Surf classes: 7 days surf class at the Praia da Barra or Praia da Joaquina. Because of their unique landscape, these are some of the best beaches in Brazil to learn how to surf.
The classes last 1.5 hours, and we offer all the necessary equipment for you to learn how to surf, like the surfboard, the lash, paraffin, lycra shirt, first-aid material. The classes can be taken by all ages, beginners, intermediate and advanced. The classes also comprehend the basics from the sea and from the currents, which means we will teach you all the information you need to understand this new environment.
They will also teach you how to surf as well as how to be safe while surfing.
Intermediate / Advanced – Surf trips: 7 days surf trips around the island and to the coastal villages nearby, according to where the waves are best. In this level, we will see how to turn the board, how to drop or take off the wave, and manoeuvres on the wave.
There are more than 40 pristine beaches in Florianopolis; many of them home to world class surf spots like Praia do Campeche, Praia Mole, Joaquina, Matadeiro and more. The island hosts the only Latin America WCT pro event tour. Here you will experience world-class surfing in a world class location!
---
Many other activities await you in this perfect place for outdoor activities, whenever you want to take a break from surfing: hiking, horseback riding, rafting, paragliding, windsurfing, kite surfing, whales watching (from June until November), boat trips, snorkelling, scuba diving.