Morro das Aranhas
Trail in the north of the island, between the wild Moçambique beach, and the Santinho beach, famous for its archeological site.
---
This trail is named after the island right in front of the Spider Hill. There ia a legend that says that there used to be thousands of spiders in that island.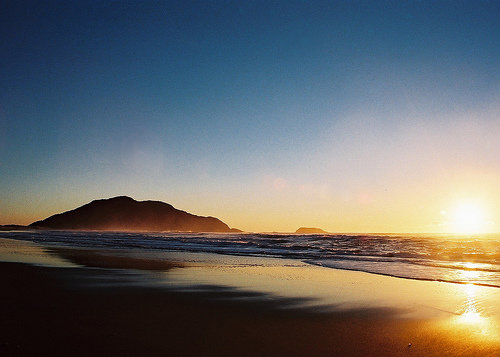 The Spider Hill is located between the beautiful Santinho Beach and the wild and not less beautiful Mozambique beach. Mozambique Beach is the longest beach in the island, with its 11,5 km. It has soft and thick white sand, small dunes covered by local creeping vegetation and it is protected by the National Park of the Red River Forest. It is a beautiful empty beach, with great waves for surfing. The Santinho Beach has the Spider Hill on its right side that still keeps indian writings on its rocks from the indians that onced lived and went fishing there; and dunes on its left side, that separate it from the Englishmen Beach. It is also a beautiful beach, with very good waves for surfing, and it usually hosts surf championships.
We will start the trail at the Mozambique beach. After just a small hike we will already have a beautiful sight of this beach. We will keep on going for about an hour up and down hill, through tunnels made of trees and the sea view, until we get a splendid view of Santinhos´s beach. Then we will go down the slope, go through the archeological site where the indians writings are, to finally arrive on the beach.
Once we get there, we can just relax on the beach, or go on another trail from the beach to the top of the Spider Hill to have a breathtaking view of both beaches, the dunnes, the forest and the Lagoa da Conceição.
Another option once we arrive to Santinho's beach, is to go for some adventure on arvorismo and tirolesa.
It takes approximately one and a half hour to get there.
It is considered a moderate walk with some up hill walk.
In your backpack: water to drink, sunscreen, light snack.
You should wear: comfortable shoes, long pants, a cap.