Wind and Kitesurfing
With strong south and northeast winds, Florianopolis has some of Brazil's best kite and windsurfing spots all year round, but specially between August and December. Equipment rentals and highly qualified instructors are readily available.
---
Windsurfing and kite surfing schools and rentals are located in Lagoa da Conceicao, the island´s main postcard . If you are an avid windsurfer or kite surfer and all you need is to rent your gear, you will be welcome here. But if you instead are just trying to "get your feet wet" in any of these sports, you will have also found the right place here.
Friendly and professional English speaking instructors will teach you the first ropes in a magnificent environment of crystal clear and warm water, with extensive shallow areas that make this place ideal to learn the sports. If you are already experienced, and you plan to bring your own gear with you, then the Wind / Kite centers will keep your gear safe and rigged here for a bargain fee, andall you will have to do is enjoy the great beautiful beaches that offer just the right conditions for these sports.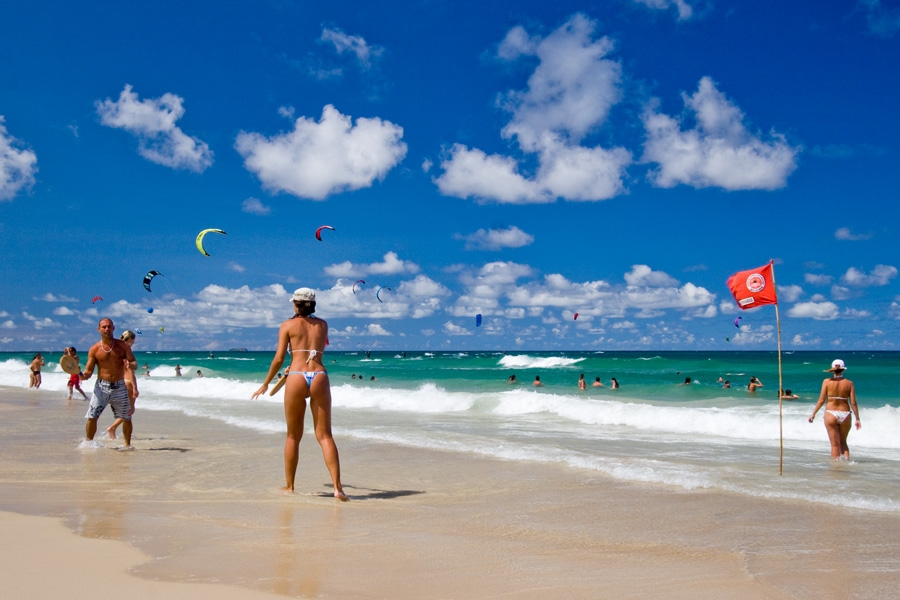 Windsurfing
---
Beginner: The Basic Course takes 8 hours, which we suggest that you take along one week. We provide the board, 3.0 mts2, 4.0 mts2, 4.7 mts2, 5.0 mts2, lifejacket, and all the necessary equipment to get you started. Basic introduction to windsurfing: safety, understanding the wind, sailing (stance, sail control, steering), tack.
Intermediate: Beach start, water start, harness, pivot jibe, fast tack.
Advanced: footstraps, planing jibe, siker tack, helicopter tack, jumping.
Kitesurfing
---
Beginner: With new equipment, different sizes and kind of boards, an easy going and efficient teaching method, the individual classes have all the necessary support, like boats, communication radios, filming and picture taking (optional). Each module of the course consists of 4 classes. Each class takes 1 hour. Usually it is necessary 2 modules for a total knowledge and safe practice of the sport. The classes depend on the weather conditions.
Intermediate and advanced: Either if you have already some experience with kite surfing, or if you are an experienced kite surfer, and you want to bring your own equipment, you can choose to have an English speaking kite surf guide to take you to the best spots for this sport. The guide will check daily the wind condition to ensure he takes you to best places each day, which may include famous places for kite surfing like the Lagoa da Conceição, Praia do Campeche, Praia de Ibiraquera and other.